Yesterday was "City View" day, an (mandatory) opportunity to take a tour of Louisville because it's easy to be in a city for a month (or to live here) and never really see the sights. It was also a day off work (woot!), but a very long and tiring day, nonetheless. We got up for a 7:30 breakfast and carpooled downtown to
Actors Theatre of Louisville
where we received a tour of the theatre, which has hosted a respectable list of future Hollywood stars (the only one that comes to mind right now, though, is Kevin Bacon). We walked through the stages, toured the backstage areas, the dressing rooms, the workshop, and the restaurant. What was most impressive was learning how involved the community volunteers were in the theatre, with over 900 active volunteers. Unlike larger cities like New York, where actors could audition and seek further employment during the daytime and perform their current gig at night, Louisville doesn't really have much opportunity for aspiring actors. Instead, the theatre attracts actors by offering second-to-none hospitality. The volunteers cook meals for the actors for every show, organize dinners and parties, and even take them around the city to run mundane errands if needed.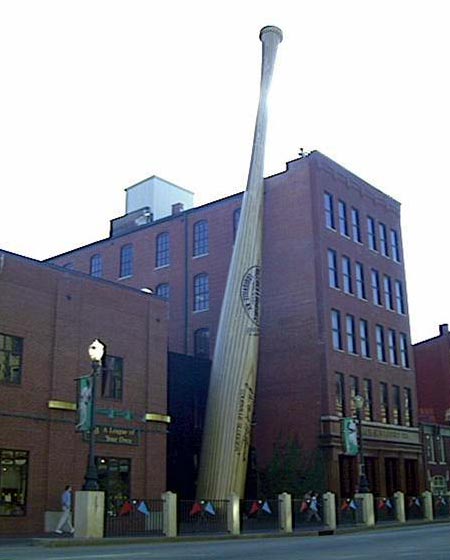 After a (sorta) quick (but necessary) stop for coffee, we walked to the
Louisville Slugger Museum
. There, we took a grand tour of the factory and watched as famous "Louisville Sluggers" were made. A process that used to take 30 minutes, carving a bat out of a cylinder of wood now took a mere 30 seconds (50 seconds for MLB bats). According to the tour guide, Louisville Slugger has had over 8,500 contracts with MLB players over the years (creating bats specific to their specifications on wood type, length, weight, etc. along with their signature engraved into the bat) and accounts for 60% of the current market (both minor and major league). As a baseball lover, this tour was especially awesome (minus the tour guide passing around a Manny Ramirez bat for show). I love baseball.
Next was a stop at the future site of
Museum Plaza
, an ambitious project to create a hotel, office space, retail space, and residential space all in one massive building that will tower the Louisville skyline. A two-bedroom condo on some lower-numbered floor is set to sell for $250,000 - and it only climbs from there to $2.5 million condos that take up the entire floor. And don't forget the $5 million two-story penthouses at the very top of the 61-floor building. Personally, I'm a little skeptical of the project. On one hand, I don't know if there is enough interest to fill x-hundred lofts in this building just because of the limiting factor of Louisville's location. With Lexington and Cincinnati as the only two cities nearby, it doesn't seem like the well-off will be flocking to Louisville in droves to live. On the other hand, even if they do, there isn't much of downtown in terms of residential living (which is probably part of why they want to build this building in the first place). Although downtown has many business areas, along with museums, government centers, etc. because there isn't an existing downtown residential district, there aren't in place the necessities that go with it - such as a grocery store, dry cleaners, retail stores, etc. So while people may move downtown...there doesn't seem to be much to do downtown (and you can only go to museums so many times). But who knows, maybe this project will help stimulate the downtown economy?
The afternoon was spent at the
Muhammad Ali Center
, an entire building dedicated to the great fighter not only for his actions inside the ring, but for his presence in society - a successful boxer during the civil rights movement, his conversion to the Nation of Islam, his refusal to fight in the Vietnam war, his humanitarian trips to spread peace, and his life with Parkinson's. It was a very impressive center, using his life as inspiration and motivation for others to have the same dedication, conviction, and spirituality in achieving peace and success in their own lives.
Lastly, we stopped by the courtroom of Judge (and Bulldog mentor) Mitch Perry, who spoke to us about the Kentucky legal system as well as answered questions about his personal life, how he became a lawyer, then judge, and what life was like for a circuit judge for the state. It was a good way to end the day, learning about the realities of the legal system and the people that go through it.